[lang_nl]Jorge Sammour-Hasbun verrassende winnaar Dos Hermanas[/lang_nl][lang_en]Jorge Sammour-Hasbun surprising winner Dos Hermanas[/lang_en]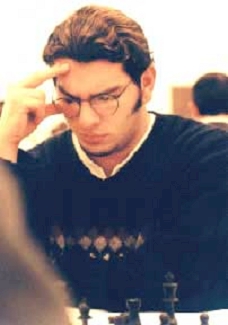 [lang_nl]Jorge Sammour-Hasbun is gisteravond de verrassende winnaar geworden van het ICC Dos Hermanas onlinetoernooi. Wie? Dat vroegen velen zich natuurlijk af. Sammour-Hasbun is er tien jaar uit geweest, maar was ooit een schaakwonderkind. Hij won het wereldkampioenschap onder 10 in 1988 en later ook het WK onder 12, toen nog Jorge Zamora geheten. Zijn familie emigreerde van Palestina naar Amerika en daar had Jorge al op 15-jarige leeftijd een USCF-rating van boven de 2500. Hij versloeg toen onder andere Gata Kamsky.[/lang_nl][lang_en]Jorge Sammour-Hasbun became the surprising winner of the ICC Dos Hermanas online tournament. Who? Many were wondering that of course. Sammour-Hasbun has been away from the game for ten years, but at some point he was a true prodigy. He won the world championship under 10 in 1988 and later also the Wch under 12, when his name was still Jorge Zamora. Jorge's family emigrated from Palestina to America and there, at the age of 15 he already had a USCF rating of 2500. Amongst others he beat Gata Kamsky in those days.[/lang_en]
[lang_nl]Als we de databases checken, zien we inderdaad dat er alleen partijen van Jorge Zamora te vinden zijn tussen 1991 en 1997. Enkele maanden geleden is Jorge Sammour-Hasbun weer wat toernooien gaan spelen en hij blijkt nog altijd van GM-sterkte te zijn. Dit toonde hij meer dan aan de afgelopen week in het ICC-internettoernooi van Dos Hermanas, waar hij de eerste prijs va 1800 euro meepakte.
Het meeste van bovenstaande informatie heb ik van het interview dat Macauley Peterson had met Sammour-Hasbun direct nadat hij het toernooi had gewonnen. Als je meer over hem wilt weten, dan kan ik het zeker aanbevelen het hele interview te luisteren (lidmaatschap ICC nodig).
Hier zijn de partijen van de winnaar in de finale, spelend onder 'NECF-InSchools'. Pas op als je begint aan bij de laatste partij want die duurde maar liefst 227 zetten!!
Top eindstand:
  1.  NECF-InSchools  Jorge Sammour-Hasbun     EUR 1800 
  2.  Anyuta          GM Tigran L. Petrosian   EUR  900 
3-4.  Smallville      GM Hikaru Nakamura       EUR  600 
3-4.  Nasimi          GM Rasul Ibrahimov       EUR  600 
5-8.  azerichess      GM Shahriyar Mamedyarov  EUR  250 
5-8.  Volf            IM Farid Khanlar Abbasov EUR  250 
5-8.  Crest           GM Sergey Shipov         EUR  250 
5-8.  K-Georgiev      GM Kiril Georgiev        EUR  250
Volledige eindstand hier.[/lang_nl][lang_en]When we check the databases, indeed we only see games of Jorge Zamora from between 1991 and 1997. A few months ago Jorge Sammour-Hasbun started playing some tournaments again and he's still GM strength. He more than proved this at the ICC internet tournament Dos Hermanas, where he grabbed the 1800 euros first prize.
Most of the information above I got from the interview Macauley Peterson had with Sammour-Hasbun right after he won the tournament. If you want to know more about Jorge, I can really recommend listening to the whole interview (ICC membership required).
Here are the games from the winner during the final, playing under the name "NECF-InSchools". Take care if you want to replay the last game, because this one lasted 227 moves!!
Top final standings:
  1.  NECF-InSchools  Jorge Sammour-Hasbun     EUR 1800 
  2.  Anyuta          GM Tigran L. Petrosian   EUR  900 
3-4.  Smallville      GM Hikaru Nakamura       EUR  600 
3-4.  Nasimi          GM Rasul Ibrahimov       EUR  600 
5-8.  azerichess      GM Shahriyar Mamedyarov  EUR  250 
5-8.  Volf            IM Farid Khanlar Abbasov EUR  250 
5-8.  Crest           GM Sergey Shipov         EUR  250 
5-8.  K-Georgiev      GM Kiril Georgiev        EUR  250
Latest articles
6 months 6 days ago

6 months 1 week ago

6 months 1 week ago

6 months 1 week ago

6 months 1 week ago

6 months 1 week ago

6 months 1 week ago

6 months 1 week ago

6 months 2 weeks ago

6 months 2 weeks ago

6 months 2 weeks ago

6 months 2 weeks ago

6 months 2 weeks ago

6 months 2 weeks ago

6 months 2 weeks ago

6 months 2 weeks ago

6 months 3 weeks ago

6 months 3 weeks ago

6 months 3 weeks ago

6 months 3 weeks ago