[lang_nl]Schaakbordmoordenaar krijgt levenslang[/lang_nl][lang_en]Life sentence for "chess board killer"[/lang_en]
[lang_nl]Een man die er prat op ging dat hij tientallen mensen heeft vermoord, is vandaag in Moskou tot levenslange gevangenisstraf veroordeeld. Seriemoordenaar Alexander Pitsjoesjkin zou in totaal 64 mensen hebben willen vermoorden, evenveel als het aantal velden op een schaakbord. Vandaar dat hij in de media de bijnaam 'schaakbordmoordenaar' kreeg.[/lang_nl][lang_en]A former grocery clerk was sentenced today to life in a hard labor colony for slaying 48 people in an effort to fill all 64 squares on a chessboard, luring his elderly, alcoholic victims with vodka and dumping them in a Moscow park. Alexander Pichushkin, who claimed to have killed 60 people, stood in a reinforced glass cage with his hands cuffed behind his back as a judge delivered the harshest possible punishment under Russian law.[/lang_en]
[lang_en]When Judge Vladimir Usov asked Pichushkin whether he understood the sentence, the defendant replied: "I'm not deaf." The courtroom was packed with journalists and the victims' relatives, some of whom said life in prison was not enough. Experts at Russia's main psychiatric clinic found Pichushkin sane but Usov said he would have to undergo psychiatric treatment at the prison for "a personality disorder expressed in a sadistic inclination toward murder." He added, however, that Pichushkin was aware of the criminal nature of his actions.
Pichushkin killed most of his victims in southern Moscow's sprawling Bittsa Park from 2001 until his arrest in 2006. Prosecutors said Pichushkin drew in homeless, alcoholic and elderly people by promising them vodka if they would join him in mourning the death of his dog. He killed most by throwing them into a sewage pit after they were drunk, and in a few cases strangled or hit them in the head, prosecutors said.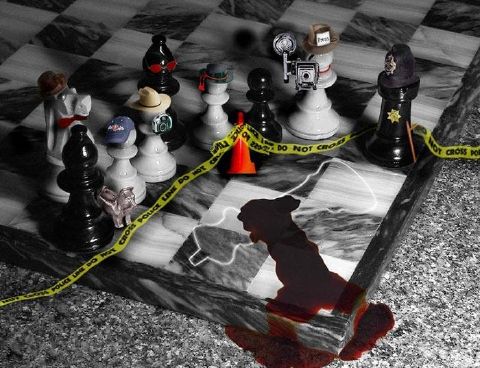 (This funny-meant picture was published at this blog last week and seems painstakingly topical.)
Beginning in 2005, he began to kill with "particular cruelty," hitting his intoxicated victims multiple times in the head with a hammer, then sticking an unfinished bottle of vodka into their shattered skulls, prosecutors said. He also no longer tried to conceal the bodies. They said he killed 11 people in 2001, including six in one month. "Justice has been done," Moscow city prosecutor Yuri Syomin said after the sentencing. "The culprit has been held accountable."
Source: CBS News.
[/lang_en][lang_nl]Pitsjoesjkin werd veroordeeld voor de moord op 48 mensen. De winkelbediende bestreed de aanklachten niet. Hij schepte zelfs op meer dan zestig mensen om het leven te hebben gebracht.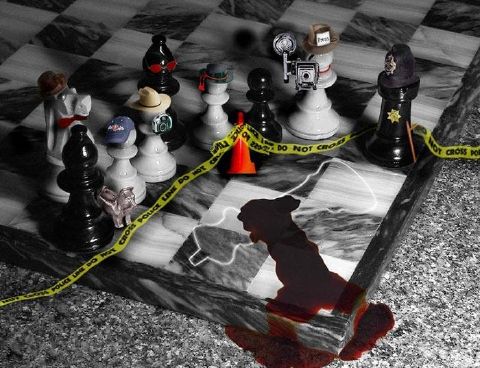 (Dit grappig bedoelde plaatje werd vorige week geplaatst op deze blog en lijkt angstaanjagend actueel.)
Pitsjoesjkin zei zijn meeste slachtoffers te hebben gekend. De meesten waren oude of dronken mannen. Hij lokte ze naar afgelegen gebieden, waar hij ze wurgde of doodsloeg met een hamer. Volgens de rechtbankstatistieken is hij met de veroordeling wegens 48 moorden niet de bloedigste criminele seriemoordenaar in Rusland. Dat is de 'Rostov Ripper' Andrej S., die tussen 1973 en 1990 zeker 53 mensen doodde.
[lang_nl]Deze reportage van Russia Today werd op 22 oktober online gezet:
[video]http://www.youtube.com/watch?v=ehaX8ruxp2I[/video]
En deze, van de BBC, is van 24 oktober:
[video]http://www.youtube.com/watch?v=vnK8gl-zfOw[/video][/lang_nl][lang_en]This report was put online by Russia Today on October 22:
[video]http://www.youtube.com/watch?v=ehaX8ruxp2I[/video]
And this one, by the BBC, is of October 24:
[video]http://www.youtube.com/watch?v=vnK8gl-zfOw[/video][/lang_en]
Latest articles
6 months 5 days ago

6 months 6 days ago

6 months 1 week ago

6 months 1 week ago

6 months 1 week ago

6 months 1 week ago

6 months 1 week ago

6 months 1 week ago

6 months 2 weeks ago

6 months 2 weeks ago

6 months 2 weeks ago

6 months 2 weeks ago

6 months 2 weeks ago

6 months 2 weeks ago

6 months 2 weeks ago

6 months 2 weeks ago

6 months 3 weeks ago

6 months 3 weeks ago

6 months 3 weeks ago

6 months 3 weeks ago