Jokers and Chokers
(EDIT: I should throw a bit of a shout-out to our new ChessVibes readers.  The best chess-news website on the planet has undertaken a revamp and somewhat naively decided to include davidsmerdon.com in its new chess grandmaster blog section.  Fortunately, the editor has agreed to tolerate my very non-chess musings, so you'll still be getting as many personal rants, feminist analyses, economic postings and narcissistic travel logs as before.)
I've just finished watching Roger Federer, possibly the greatest tennis player in the history of the game, squander a two sets-to-love-lead and two match points on serve – and lose.
Ouch.  To be fair, the pressure was on: Federer lost against world number one Novak Djokovic in the semi final of the US Open in the largest tennis stadium in the world.  But for a player of his calibre, that sort of lead is like having an extra rook and being close to checkmate.  To lose from there is truly a world-class example of choking.
(I'm not sure it's just an Australian phrase or more general English slang, but to "choke", in addition to the usual definition, means to fail after being very close to achieving something – usually in a sporting contest.  For example, "Smerdon held Dominguez to five draws in their match, before epically choking in the sixth game.  What a choker!")
Federer's loss was bad, but if I could offer him any comfort, I'd tell him he's hardly alone in top-level sport this week.  Most likely the Swiss tennis ace doesn't follow Australian rugby league, but he might consider making an exception to find a little empathy this evening.  This week was the first of the finals series, but it could well be the last for the St George-Illawarra Dragons, who choked badly against the West Tigers.  St George were premiership favourites at the start of the season (and also my tip for premiers – d'oh) and had the very unusual distinction of breaking the club record for longest winning streak AND longest losing streak in the same season.  In that order.
A little more internationally (but only just), the first round of the Rugby Union world cup produced a number of scares for the top teams in what is usually a very cruisy week for the favourites.  (The rule of thumb with working out which teams are good at rugby, as with cricket, is to ask "Does the country hate the English?".)  In fact, though, the opening matches saw the best ever chances for the minnows to record huge upsets – before all of them, in turn, choked.
Japan's choke against France and Romania's against Scotland were both fairly predictable, in hindsight, as neither country is known for having the stamina to last a full, gruelling 80 minutes on the pitch.  But Argentina's failure to convert a 9-3 lead with 13 minutes to go against 2003 champions England was a little more surprising, and I dare say depressing for the steak-and-salsa faithful.
But the biggest choke of all today came about in the World Chess Cup in Khanty Mansiysk, Siberia.  Azeri Grandmaster Vulgar Gashimov had fought back gallantly for exactly 99 moves in his attempt to hold a draw against Ukrainian star Ruslan Ponomariov, reaching the following position: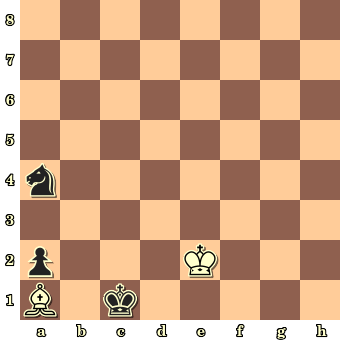 Here the online commentators on the official website claimed that Ponomariov (black) was still technically winning, but honestly, I can't see it.  The neat trick after 100.Ke1! Kb1 101.Kd1! is that after the black king takes the bishop, white plays his king to c2, imprisoning the black king in front of his own pawn.  The black knight can check, check and check again, but it can't dislodge the white monarch from oscillating between the c1 and c2 squares.
But Gashimov, who had played with scientific precision for the last 40 moves, inexplicably played 100.Kd3?? and almost immediately buried his head in his hands.  (After 100…Kb1 101.Kd2 Nb2!, white doesn't have a move that allows him to answer …Kxa1 with Kc1.  White always needs to be able to place his king on a square of the same colour as the black knight after the black king takes the bishop.) After fifty hours of hard competition, a thousand moves and an arduous fortnight in Siberia, his tournament had suddenly and dramatically come to an end on the back of one unfortunate brain-snap.
What could possibly have caused this?  Gashimov is not only one of the world's top grandmasters, he's one of my favourite players, chiefly based around his ability to play exciting, risky chess with complete composure and a seemingly unflappable disregard for nerves.  Plus, despite the time pressure when the blunder was made, he's also a fantastic blitz player.
Well, I think a lot of the explanation for choking has to do with the psychological trauma of previous chokes – particularly when the situations (or adversaries) are eerily similar.  We saw this tonight with Roger Federer; believe it or not, he had the same situation with two match points against Djokovic last year, and choked again.  And poor Gashimov was knocked out of the last World Chess Cup in 2009 after an inexplicable piece blunder to none other than – you guessed it – Ruslan Ponomariov.  An epic choke, and one that I certainly didn't predict (remember this?).
Every chess player has their gremlin, that one opponent that, no matter how much better you've played or what the position is, you just can't help but choke against – over and over again.  David Bronstein is widely considered the strongest player never to become world champion, narrowly losing three world championship matches (in one of which, in 1948, he led by a point with two rounds to play).  There was a time  in Australian chess when Stephen Solomon's failure to record a win against Ian Rogers over the course of over twenty games was infamous.  And for me, despite an almost 200 point rating advantage, I have a terrible record of losing against Sydney International Master Igor Bjlobrk – and, strangely enough, a statistically improbably bad record against female opponents.  Go figure.
Did Gashimov remember his 2009 tragedy against Ponomariov in those critical moments leading up to moving his king to d3?  Did Federer get an eery case of déjà vu when he found himself serving with another two match points against the same opponent?  Does my mind wander when facing a female opponent over the chessboard to every woman I've ever played?
Well…okay, at least the latter isn't true.  But there's no doubt that memories play a big part in world-class choking.  Either that, or there's something very strange in the air this week.  In any case, as I type this, I have the pleasure of watching Andy Murray, world number four tennis player, self-destructing against Rafael Nadal.  And we all know just how much I love Murray (see here, for instance). Murray is perhaps the most (in)famous choker in world sport today, having never won a grand slam despite making three finals and numerous semi-finals.  And Nadal has got to be one of the biggest gremlins around.
In other news, I'll be doing some online radio commentary again on Tuesday for the World Chess Cup semi finals.  You're guaranteed to hear the word 'choke' a lot more than usual, and possibly some other Aussie lingo just to confuse the pundits.  Head on over to Chess.FM at 10 a.m. GMT to hear the dulcet tones of yours truly setting out to disprove the "people in glass houses shouldn't throw stones" mentality of online chess commentary.
Latest articles
5 months 4 weeks ago

5 months 4 weeks ago

6 months 10 hours ago

6 months 1 day ago

6 months 2 days ago

6 months 4 days ago

6 months 5 days ago

6 months 6 days ago

6 months 1 week ago

6 months 1 week ago

6 months 1 week ago

6 months 1 week ago

6 months 1 week ago

6 months 1 week ago

6 months 1 week ago

6 months 1 week ago

6 months 2 weeks ago

6 months 2 weeks ago

6 months 2 weeks ago

6 months 2 weeks ago